Project AAC for ALL (Access to Languages and Learning)
Interdisciplinary Preparation for Highly Qualified Speech-language Pathologists and Special Educators to Support Dual Language Learners with AAC Needs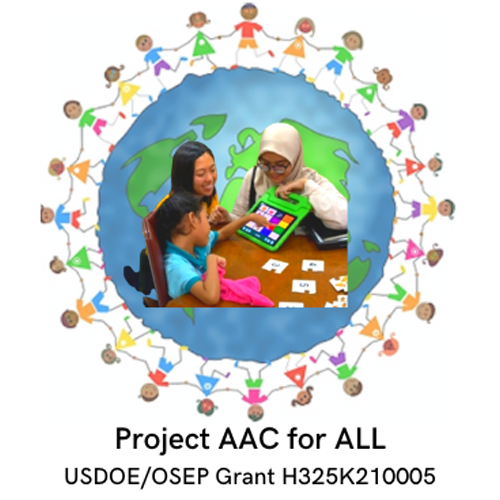 Project AAC for ALL is co-directed by Drs. Gloria Soto and Nancy Robinson in the Department of Speech-Language and Hearing Sciences and funded by the U.S. Department of Education, Office of Special Education Programs from 2021-2026, grant number H325K210005. AAC for ALL will address the shortage of professionals in speech-language pathology and special education to meet the linguistic, academic, and social needs of an increasing number of children with disabilities who have a home language other than English, and benefit from various types of Augmentative and Alternative Communication.  AAC for ALL will enroll 12-13 scholars annually who are current graduate students in the Departments of Speech, Language and Hearing Sciences and Special Education for a total of 50 scholars over 5 years.  Scholars will receive scholarships and complete an interdisciplinary program over 3 semesters that includes specialized coursework, clinical and fieldwork experiences; service-learning; and internships or student teaching. Upon completion of AAC for ALL, scholars will receive the AAC Graduate Certificate from the SF State Graduate Division in addition to their respective Master's Degrees and Credentials.
AAC for ALL at San Francisco State University will (a) implement an interdisciplinary, evidence-based curriculum that includes academic coursework, clinical practice, community-based fieldwork, school internships, and international service-learning with the Nika Project ; (b) integrate AAC specialization within state and national certification standards for SLPs and SPED teachers; and (c) implement a comprehensive evaluation plan that includes an assessment of course quality, candidate knowledge and performance, and project impact on educational services for students with AAC needs who are dual language learners. 
AAC for ALL Curriculum
Current SLHS and SPED graduate students who are AAC for ALL Scholars complete the AAC Certificate courses and fieldwork sequence as part of graduate degrees and credentials that begins in the spring semester with an additional AAC service-learning experience with the Nika Project in culturally and linguistically diverse communities, both in the US and internationally through virtual and in-person formats.
All Scholars
SPED 743: Augmentative and Alternative Communication
SPED 746: Teaching Individuals with Physical and Other Health Impairments
SLHS 881: AAC Community Service-Learning with the Nika Project
SLHS 899: Research and Innovation in AAC
SLHS Scholars
SLHS 880 & 713: AAC Clinic
SLHS 882 & 712: School Internship with AAC Focus
SPED Scholars
SPED 601/701: Observation and Participation in SPED
SPED 730 & 723: Student Teaching with AAC Focus
*Individual Roadmaps are developed upon Advising